Roski Documents The Healing Journey in an Exhibition for a Santa Monica Hospital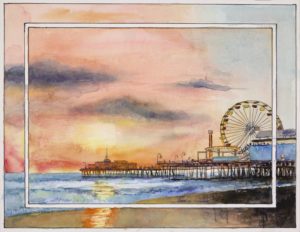 Gayle Garner Roski documents "The Healing Journey" in a special exhibition at Providence St. John's Health Center to celebrate the 75th anniversary of this noted Santa Monica hospital. The display features 40 watercolor paintings of imagery from Santa Monica to Malibu, which offers a continual view of the meditative tranquility of the ocean, and, in turn, restores a sense of wellbeing.
For Roski, this transformative journey, which immerses the viewer into the healing powers of being outdoor in nature, begins at the McClure Tunnel in Santa Monica. Upon exiting this transition from the 10 Freeway to Pacific Coast Highway, a spectacular view of the ocean is revealed. As one winds along the coast toward Malibu, the mind and body begin to relax, which rejuvenates the spirit and restores a sense of wellbeing.
Dates:  Sunday, March 12, to September, 2017
Opening: Sunday, March 12, 2017, 2:00 to 4:00 pm.
Location: Providence Saint John's Health Center, 2121 Santa Monica Blvd., Santa Monica, CA 90404